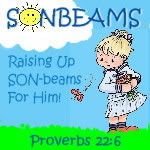 I'm so excited!  Scripture memory has been such and important part of our homeschooling journey and now my friend Candace from Sonbeams.com has a wonderful new resource (in addition to some other great stuff on her site).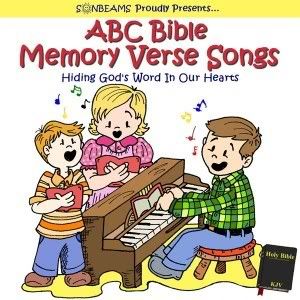 Introducing the ABC Bible Memory Songs and parents guide from Sonbeams.com. These adorable songs are a joy to listen to for both kids and adults alike. Using the King James version of the bible, each song has an enjoyable tune and word for word scripture from the KJV text. 
Studies show that the KVJ is actually the easiest version of the bible to memorize because of it's poetic nature but because these songs will be heard and sung over and over again it'll be extra easy for you and your little ones to hide the word of God (and learn your abc's) in your heart.
The parent's guide that goes along with the mp3s of the song is really wonderful too.  The guide makes a great compliment to the songs and helps to reinforce the message of each of the verses that your child will be memorizing making it a great resource for your bible time curriculum.  I absolutely love it!
I hope you'll run over to the Sonbeams site and listen to the fun samples they've uploaded so you can try before you buy! You can get instant access when you purchase these great songs along with the parents guide. And check out the other fun chore charts and 26 week preschool curriculum they have while you're there too!
Please let me know what you think!  I'm eager to hear how families are using these great resources!